Hate stepping out of bed on a cold winter day, only to have your foot touch a floor that's ice-cold? Sick of parking your car in a garage that's freezing, with ice and snow buildups that stick around for days? Explore the benefits of heated floors in Glenwood Springs, Redstone, Garfield County, and Pitkin County, CO! Garrett Hansen Plumbing Inc will help you experience this new level of luxury.
How They Work
Heated floors are a product of something called radiant heating. The system works by running a series of tubes under your flooring in strips. Heated water is pushed through these tubes, creating radiant heat that's trapped under your flooring. And, because heat rises, it comes to the surface! We feel this as heated flooring.
Why Choose Heated Floors?
Radiant floor heating in Glenwood Springs, CO may seem like just a luxury, but it's actually so much more. These systems provide homeowners with a number of benefits that can greatly improve your quality of life and the value of your home: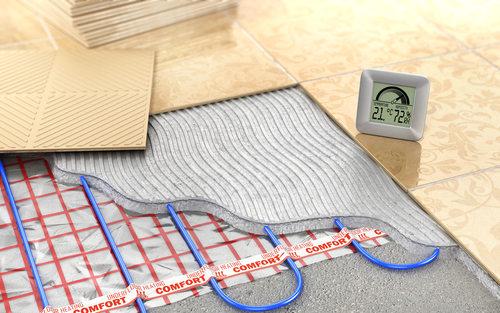 Radiant floor heating can cut down on the cost of heating your home through other conventional methods. Because the lowest point (the floor) is heated and heat rises, you'll experience heat longer and more consistently.
In garages, heated flooring is a smart ice- and snow-melt system. The heat removes these buildups from your car so they don't fester and create rust, thus extending the life and function of your vehicle.
Heated floors are a fast improvement to your quality of life during the winter. It'll keep your feet warm and present a more enjoyable atmosphere for you to walk around in!
Homes with radiant floor heating traditionally sell for more than those without, since this installation is seen as a quality home upgrade. You'll be putting more value into your home!
Hydronic floor heating requires no ducts or registers, making it a non-invasive way to heat your home. Though there's a higher upfront cost, you also won't have to deal with much of the maintenance these installations require.
Looking to bring the many benefits of heated flooring into your home? Contact us at Garrett Hansen Plumbing Inc to learn more about how you can bring the reality of radiant floor heating or other hydronic heating systems into your home.